Sunday, March 29 Worship Service with Setauket Presbyterian Church and Grace Presbyterian Church
Updates from Setauket Presbyterian Church about Covid-19 Precautions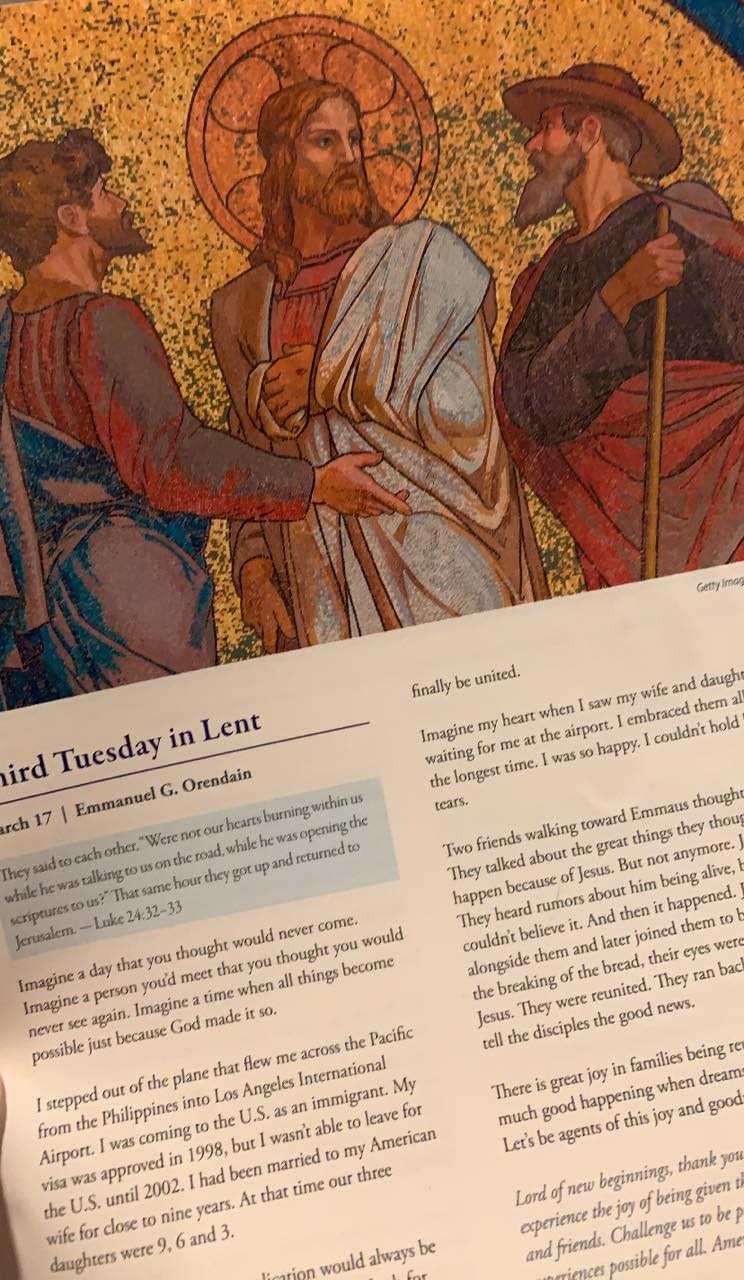 March 17th Devotional
Good morning, SPC family. I'm not always the best at keeping up with reading the Lenten devotional every day…sometimes I have to catch up on a day…or two…but I picked the booklet up this morning and discovered today's scripture reading was from one of my favorite stories: the road to Emmaus. And in the reflection, I read this:
"Two friends walking toward Emmaus thought all was lost. They talked about the great things they thought would happen because of Jesus. But not a

nymore. Jesus was dead. They heard rumors about him being alive, but they just couldn't believe it. And then it happened. Jesus walked alongside them and later joined them to break bread. In the breaking of the bread, their eyes were opened. It was Jesus. They were reunited. They ran back to Jerusalem to tell the disciples the good news."
I can't wait until we are reunited in person at SPC. When that day comes, I am going to want to run and tell everyone the good news! In the meantime, I am holding onto the certain hope that the rumors are true: Jesus is alive, even at times when it's hard to see him. When I break some bread today, I'll be thinking of that, and all of you. Sending lots of love across the internet!
(P.S. if you didn't have a chance to pick up a Lenten devotional booklet and would like one, let me know, and we'll gladly drop one at your door or mail it to you.)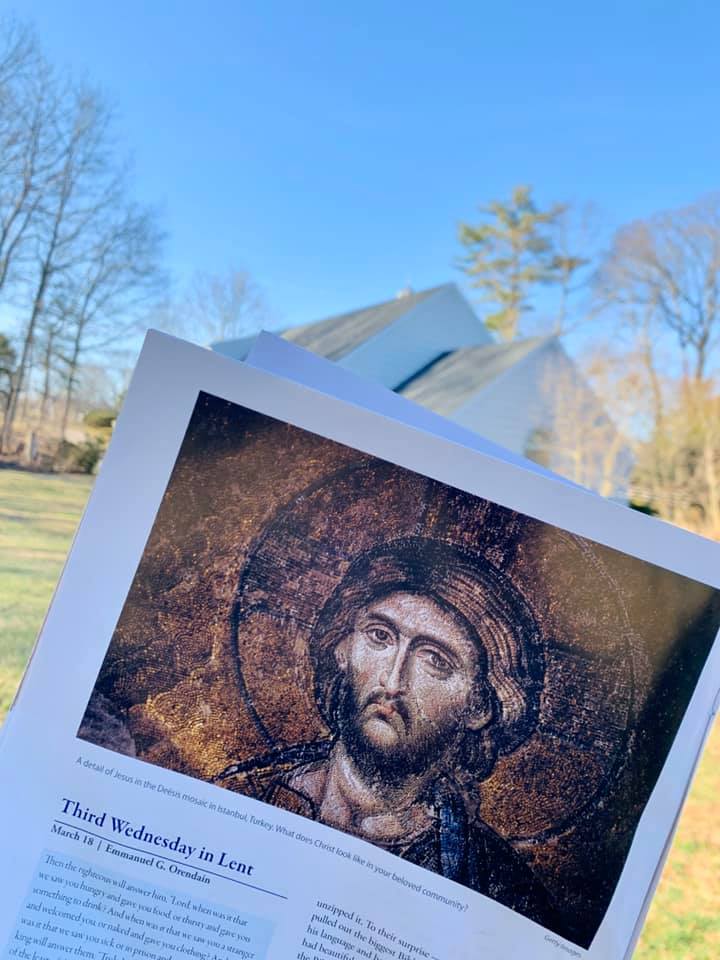 March 18th Devotional
I took a walk outside for some devotional time this morning. The sky is blue, the birds are singing, and I even have shorts on!
This morning's passage comes from Matthew 25: 37-40…
Then the righteous will answer him, "Lord, when was it that we saw you hungry and gave you food, or thirsty and gave you something to drink? And when was it that we saw you a stranger and welcomed you, or naked and gave you clothing? And when was it that we saw you sick or in prison and visited you?" And the king will answer them, "Truly I tell you, just as you did it to one of the least of these who are members of my family, you did it to me."
In this passage Jesus is telling us that we meet him when we serve the "least of these": that we meet Jesus in places we might not have expected to. We meet Jesus in the wilderness. Keep your eyes open today for Jesus. Even, no especially, in these days when service that includes physical proximity is challenging, Jesus keeps showing up. Share with your SPC family where you have encountered Jesus today.
I met him in the cool breeze and the bright blue sky this morning.
Love and peace to each of you ❤️
Pastor Ashley Mc-Faul-Erwin
March 20th 2020 Devotional
March 21st 2020 Devotional
Our Lenten devotional book,
Becoming a Beloved Community: A Matthew 25 journey to the cross
, offers this scripture passage for today, from Deuteronomy 31:6: "Be strong and bold; have no fear or dread of them, because it is the Lord your God who goes with you; he will not fail you or forsake you." I find that my fear ebbs and flows throughout each of these days; how about you? This morning, I'm thinking about the Israelites in the wilderness after escaping from Egypt, and the
fear they must have felt with so much unknown ahead of them. But scripture reminds us that God went with them and did not fail or forsake them. So right now I'm closing my eyes and picturing the wind/spirit/breath of God moving within and among each of our homes, as we navigate the wilderness we are facing together.
How are you doing with fear today?
Will you join me in the prayer from our devotional?
"God of all, who goes with us and who will never fail or forsake us, grant us strength in the face of fear, wisdom to seek understanding, and clarity of vision to see the impact our beliefs and words have in your world. Amen."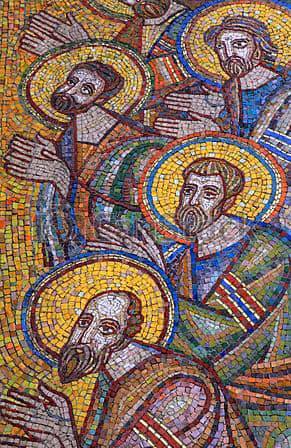 March 23rd 2020 Devotional
"Therefore, since we are surrounded by so great a cloud of witnesses, let us also lay aside every weight and the sin that clings so closely, and let us run with perseverance the race that is set before us, looking to Jesus the pioneer and perfecter of our faith…" Hebrews 12:1-2a.
This morning's devotional includes the image below, it is the apostles mosaic found in Ukraine. Our friends at Presbyterians Today ask this question, "Who would be pictured as today's saints in your beloved community who are making a difference?"
Yesterday, in confirmation class we talked about the church as the body of Christ and how each person is important and integral to the body. So, friends, each of your faces would appear on an SPC mosaic. Nevertheless, let's take some time today to reflect on a particular saint who has reflected God's love and light to you.
So, who at SPC, past and present, would you name as a saint in our beloved community? Who would feature on our mosaic?
March 25th Devotional
Friends, I want to offer a hymn to go with our devotional reading this morning. This hymn, by Bernadette Farrell, is based on the Scripture passage for today: Psalm 139. This Psalm reminds us who we are and who we belong to. There is nowhere we can go, no difficult day we can walk through when God is not all around us.
Please use this song as a moment to take a deep breath this morning. Breathing in God's goodness and love for each of you. Even you have listened to the hymn, we will pray together using the words from our devotional…
"Welcoming God, who knows our comings and goings, you assure us that we belong to you. Help us to be generous with that spirit of gracious attention, that we might welcome all your people. Amen."-Pastor Ashley
March 26th Devotional
Today's scripture reading in our Lenten devotional booklet seems very appropriate for today:
"For now we see in a mirror, dimly, but then we will see face to face. Now I know only in part; then I will know fully, even as I have been fully known." (1 Corinthians 13:12) It definitely feels like we are in a time when we "know only in part"–and when we long for the time when we will see and understand and know more fully. But as the scripture says, this much is certain: we are fully known. Whatever is visible dimly for us is fully visible to God. How are you feeling with so much being unknown right now? Where have you sensed, nevertheless, being "known" by God in these days?
Will you pray with me the prayer from our devotional booklet?
"God of mercy, help us to see ourselves completely. Strengthen us for the long night of work ahead. Forgive us for the times we fail to embody your ministry of justice and welcome. Assure us of your unending love, expressed through your presence with us in the person of Jesus, in whose name we pray. Amen."
We are a faith-filled church, with a future as rich and exciting as our past. In gratitude to God and empowered by the Spirit, we welcome you!
Worship is
EVERY SUNDAY

 at

9:30AM
5 Caroline Avenue, Setauket NY 11733
(631) 941-4271
Church Office Hours: Monday through Friday, 9AM-2PM